Introduction¶
FieldTwin Collaborate is an optional application that is part of the FieldTwin Enterprise Suite that allows for true collaborative visual workflows between multiple stakeholders. This means that Operators and EPCs work on the same shared data model while ensuring secure granular access and control of users and data for all parties.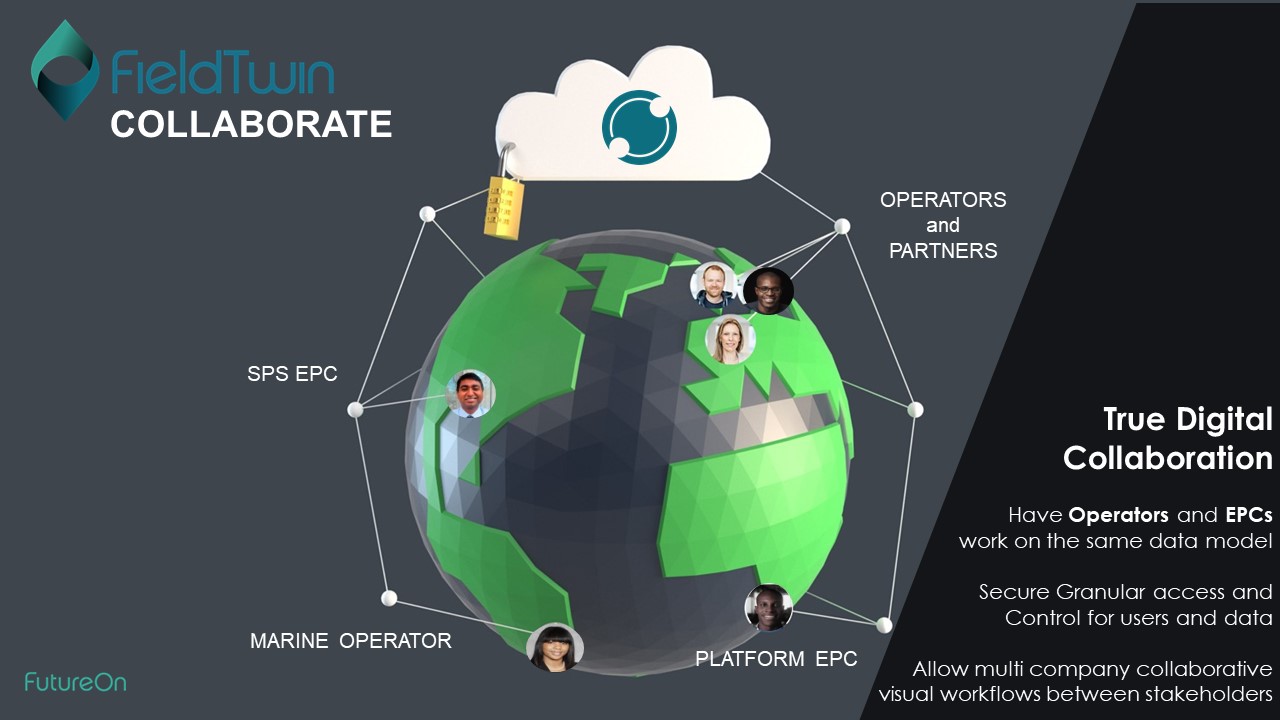 With FieldTwin Collaborate you get open Communication and Engagement, quick adaptability to project scope changes and enhanced methods to problem solve complex industry challenges as they appear.
Quick Walkthrough Video¶
Allowing multi company collaborative visual workflows
Two-Way Real time collaboration
Establishing a two-way secure connection between FieldTwin tenant owners enables you to have a real time collaboration on the same shared data-model.
The Collaborate module allows you to connect to external FieldTwin users and securely share your locally stored project data eliminating data loss and duplication of work. The external users can utilize your shared data with the rights you choose to give them. The external party can choose to initiate a collaboration back and you will achieve a two-way real-time collaboration.
Benefits¶
True Digital Project Sharing

Share - Easily select project(s) to share with other FieldTwin users (Operator Partners, EPCs etc.)

Accuracy - Select specific project data to share with the external party (Bathymetry, Wells, Connections, Metadata etc...)

Integrity - All data added to the shared data model are securely stored in their respective owners Single Tenant encrypted database (So any data Collaborator A creates or imports from their end will only be stored in their own database)

Access - Invite users from both companies to the shared project(s)

Control - Give data access for the external party by assigning specific user roles

Extended workflows - Internal projects can also be used as view only backdrops in shared projects creating new workflow possibilities where if you change key data in one project it updates all stakeholders
Data Security & Control¶
Storage - All data is stored locally in the respective client's tenant database

All data is fully encrypted at both REST and in Transit

Granular control of data types and visibility of the shared data

Granular user roles controls who can view, edit, delete, and update any data type
SW and HW Requirements¶
FieldTwin Collaborate requires an Enterprise License and FieldTwin Design version 6.3.5 or higher
Collaborate will work on most laptops/desktops, but for Field Architects/Designers we recommend the following HW specifications:
HW Requirements
CPU: Core-i7
GPU: GTX 1060 (good), 1070 (better), 1080 (best)
RAM: 16 GB
Disk: SSD highly recommended
Large screens highly recommended (1920x1080 or greater)
Mouse
Browser Requirements
We recommend Chrome for all features with optimal 3D performance! But, you can also use any Chromium based browser e.g. lastest version of Microsoft Edge. The lastest Firefox browser will also work. FieldTwin Collaborate has been tested with Chrome on the following operating systems;
Microsoft Windows 10/11
Mac OSX or newer
Most popular Linux OS's
Download Chrome
Current Version¶
Current Version
The current version is: 1.1 Released in May 2022